Sheltering Animal Foundations in Emergencies & Ropes and More
Sheltering Animal Foundations in Emergencies & Ropes and More
October 10-11, 2022 8:00am -5:00pm
Hosted By: Cobb County Animal Services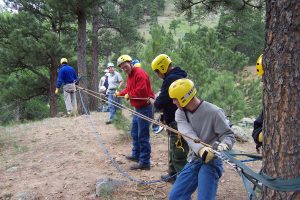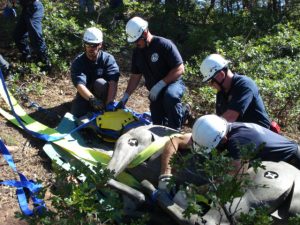 The SAFE course provides emergency management, ACO's, shelter managers, first responders, animal emergency response and volunteers a solid foundation in emergency handling and sheltering. This course prepares agency officials and teams with the necessary tools for a smooth- running and safe operation. Classroom topics include identifying and building your region's emergency response capability, emergency sheltering operations for livestock and small animals, animal behavior and handling, and an animal decontamination overview. Participants will get to utilize their skills during the tabletop exercises and full scale setup.
The RAM course is a highly involved hands-on training that provides an introduction to ropes and knots, the use of a rescue glide, front and rear assist of a downed animal, multiple rescue scenarios including a mud rescue.  Be prepared to get dirty.  Additional topics include instruction in situational safety and incident assessment, mechanical advantage, low and steep angle rescue and techniques for safe handling of animals during extractions.
Location 
Cobb County Police Department Training Center  2435 East-West Connector Classroom 114A   Austell, GA 30106
---
Equipment necessary for class
Appropriate footwear – closed toed boots
Long pants
Leather Gloves
Clothing appropriate for outdoor conditions
Safety/Climbing helmet
---
Registration Information
Class is sponsored by Cobb County Animal Services
Registration is $25/person SAFE class  $25/person RAM class. Remainder of class expense is subsidized thanks to an ASPCA grant. Payment is due at the start of the class.
Registration is required to attend.
For more information Contact Code 3 Associates 303-772-7724
As a result of pandemic related uncertainties, we are currently not accepting payment at the time of registration. We will invoice you before the start of class, and you may mail in payment or submit payment upon receipt of an invoice.
Date & Time
October 10th, 2022 - October 11th, 2022
Location
Cobb County Police Department Training Center
2435 East-West Connector Classroom 114A
Austell, GA 30106
Online registration is no longer available for this class, please call 303-772-7724 or email info@code3associates.org to inquire about registering.