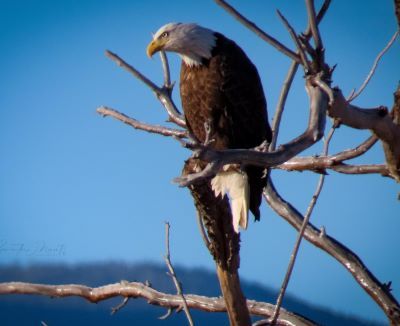 Soaring with Eagles
Chief Animal Control Officer Jessica "JJ" Hendrickson, City of Kenai Animal Control Shelter
One of my favorite calls for service was for an injured Eagle who has been hanging around a property within my jurisdiction for a few hours. In my area of Alaska, most eagle calls are referred to the Fish & Wildlife Biologist at the Kenai National Wildlife Refuge. However, on this particular day, the Biologist was not able to respond to the call. They asked my agency to assist in capturing the eagle for assessment and potential transport to the rehabilitation center.
With the go head from the biologist, we loaded our vehicle and headed to humanely capture the eagle. When we arrived at the property, the eagle appeared lethargic and disoriented and could not fly more than a few feet before touching back down on the ground. We contacted the property owner to gain access to the property and got to work maneuvering the eagle to an area in which we could capture it humanely and safely. Although the eagle could not fly to normal standards, the small amount it could, made for good neighborhood entertainment as myself and my officer were forced to re-evaluate our plans as the eagle flew over our heads to land on various neighboring properties. After what seemed like forever, the poor bird was tired enough to allow us to corner it, cover it with a blanket and maneuver it into a large dog crate.
The eagle was then assessed and taken to the bird rehabilitation center where it made a full recovery after a few weeks. This call was one of my favorites not only because I had the opportunity to assist an injured eagle, but because it was a great opportunity to interact with what felt like an entire neighborhood. The community worked together to keep an eye on the bird until we responded and assisted us by keeping their children and animals inside during the capture. Opportunities like this one are a great way to connect Animal Control Officers and the people in the community we serve.
Learn more about Alaska's unique wildlife at Alaska Wildlife Conservation Center. To develop more networking opportunities and hear more stories like these, join the Code 3 ACO Coalition.