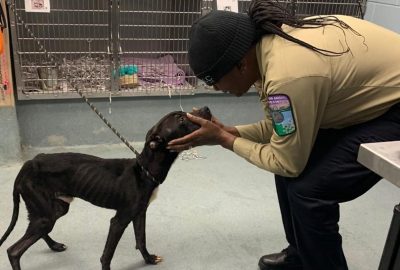 The Emotional Impact of Animal Control
Rob Leinberger Animal Control Supervisor for Richmond Animal Care & Control
In January 2009, I started my first graduate level class at the University of Richmond on my quest to earn a Masters degree in Human Resource Management. The main assignment was to write a paper about an issue related to human resources management. This would be easy enough because mine would be on something related to animal control. I embarked on this research journey with the title, The Emotional Impact of the Animal Control Profession. The finished paper is nearly 60 pages in length and included conversations I had with amazing people in and outside of the animal control profession. I've included portions of the paper I wrote in this article.
Significance of the Topic
The animal control profession is a field of work that, as we already know, is often misunderstood. In the past, we were considered "dog catchers." This early photo of "dog catchers" represents the historical physical difficulties that many of us currently face each day. To this day, those of us in the animal control profession still routinely face the stereotype of the "dog catcher" mentality. The animal control profession has grown significantly since 1924 and has brought many challenges with it. These challenges are both physical and emotional. It's relatively easy to look at and Washington, D.C., 1924. "Dog catchers." National Photo Co
measure the physical implications of the animal control job. For example, those of us in the animal control profession that have been bitten by a cat or dog, sprained an ankle chasing a dog, or have been exposed to the feces and urine in an animal hoarder's home can easily explain the physical aspect. We can readily tell someone about the punctures from the dog or cat bite, the pain from the twisted ankle, or the awful smell of the animal hoarder's home. How, though, do we explain or convey the emotional aspects of these experiences in animal control?
The Stress
I spoke with Karl Kalber, Prevention Consultant for the Department of Mental Health Support Services for Chesterfield County. We discussed the aspects of stress and mental health issues as they pertain to animal control professionals. He spoke about the stressors of animal control that are typically expected. These might include such things as an aggressive dog or an injured animal. These situations create a level of stress that may be expected in this line of work. However, he also pointed out the stressors that we might not expect would occur in this profession. This might include such circumstances as removal of animals from a suicide situation or being the first responder to see evidence of a child abuse case. All of these situations expected or not, create stress for an animal control professional.
Legal
I spoke about the legal aspects and how they might affect an animal control professional with Robert J. Fierro, Jr., Assistant Commonwealth Attorney for Chesterfield County. There is no doubt that there is a passion for animal welfare—people care! Regrettably, as he pointed out, there seems to be a lower priority on animal cases as they are often considered less desirable. In addition to this are the lower forms of punishments that are typically associated with animal cases. For example, the prosecution of a running at large case involving a dog, while considered a criminal offense, only involves the possibility of a minor fine.
Animal Control Professionals
I was fortunate to have the opportunity to get first-hand information from animal control professionals from several areas of the United States. These amazing people have been in this profession for as many as three decades to less than five years. Here are some of the very direct things they had to say:
"…you can see and learn so many things about how different people are, how they react."
"Sometimes certain dogs or cats will catch your eye and then they have to be euthanized."
"…awakened at night just wondering if that was the right choice for that particular animal to be euthanized."
"I'm thankful for my job, but I'd like a day off with no interruptions."
"They can't take care of themselves, let alone their animals."
"With people I know in the animal business I can bring up the good stuff."
"Doing this job is not a joke."
"I'm not arguing with you, I'm passionately discussing the issue with you."
"Look for people that have it in their heart to work with animals and are not just in it for a paycheck."
"More help!"
"I'm a teacher, counselor, caregiver, vet tech, politician, and judge."
"People can't feel what we feel."
"It can be grueling having to deal with people each day."
"The happy endings are not there often enough."
"No matter how hard I try, you feel like you don't get through to many people."
"Insurmountable odds with the least amount of resources."
"Expectation to know everything."
"…special person to handle the good, the bad and the ugly"
"Every day I go to work not knowing what I'll have to figure out."
"The happy emotions elate and make my day. It's the sad ones that wear on you, keeping them bottled-up is not good."
"Understanding my own lack of appreciation for the emotions of animals."
"On most days it is very rewarding. However, the stress level is intensive. With this job you don't or can't leave it at the end of your shift."
"A more positive image for ACO [Animal Control Officers] in media, workplace, and society."
How can we improve?
All of the animal control professionals in this study stressed the need for more training. For training opportunities, click HERE.
Here are some other ideas that were given:
When hiring people in animal control, go into more depth about animal experiences
More specific training, such as dealing with compassion fatigue
A stress debriefing course offered at annual conferences
Three-tiered approach to animal control; three levels of animal control officers depending on the needs and expectations of the locality
Educating the public better on animal care and education for humane societies about animal control professionals
Better equipment
More attempts to change public view (improving the image of animal control)
Better education regarding animal related laws
Mandatory stress management
Leadership training for animal control supervisors
More protection for animal control professionals
Get the word out and make the emotional impact more visible
Improvement through the unity of peers
Uniform adequate statewide training
Strong legislative efforts to validate animal control officers need for training and protection
Final Thoughts
The dog catcher of yesteryear can no longer work for the animal control world today. Animal control professionals are human and experience a level of emotions that many individuals might not ever understand. Such emotions as anger, frustration, and sadness are frequently hidden by animal control professionals. As a result, these hidden feelings can take a toll on the health and well-being of individuals in this field. The physical and mental demands on animal control professionals are ones that should be recognized by more than just those that do this line of work.
I knew going into this project that it wasn't going to be easy. I knew the challenge of collecting the information was going to be both time consuming and difficult. I had to handle the challenges of my everyday personal and professional life and still work on this project. It was difficult on an emotional level when I gathered this research. Reading the articles and talking with the individuals I interviewed provoked my own personal feelings. This was difficult as I had to maintain a professional dedication to this project yet still incorporate my own ideas and thoughts. Despite all of that, the rewards of completing this project have been incredible. I have a further respect and admiration for the animal control profession.
I've learned that there are many more animal control professionals that think in a similar manner as I do, yet have their own methods and experiences. In some cases, they think far more intuitively and deeper than I would have ever guessed. These individuals that I had the honor of talking with provided an inside look into the world of animal control professionals. These very real people gave me very real thoughts and emotional descriptions of how they lead their lives personally and professionally.
The business of animal control is my chosen profession as it is for many others. The quality and level will increase as those of us in this profession strive harder for improvement in the care and welfare of both animals and people alike.
Short Bio
My name is Rob Leinberger and I began my career in the animal care & control world on December 9, 1991 with Chesterfield County Animal Services in Chesterfield, Virginia. In January 2016, I became the Animal Control Supervisor for Richmond Animal Care & Control in Richmond, Virginia. My full research paper is available on request. I can be contacted at (804) 646-5577 or emailed at Robert.leinberger@rva.gov
Visit Resiliency 1st, for resources and information on first responder stress, resiliency, and mental health.