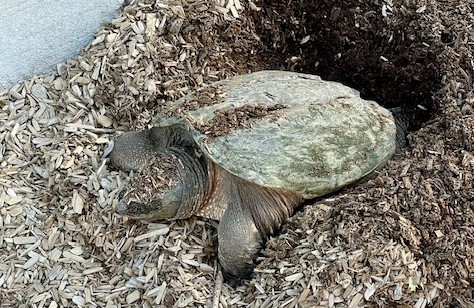 Turtle on the Playground???
Animal Control Officer Andreas Reimann Lafayette, CO
I have been an Animal Control Officer for about 4 years now, and I can say I have added turtle rescuer to my long list of job duties. Back on June 6, 2021 I received multiple calls about a snapping turtle at the playground of a popular lake in my area. The callers were stating that the turtle had dug several large holes on the playground and seemed to be preparing to lay eggs.
I rushed over there as quickly as possible and found that mama had already dug two holes, and was in the process of digging a third one. The smart turtle decided to take the easy way and try to bury her eggs in the soft soil of the playground, instead of the hard dirt around the lake. She was none too pleased and very cranky when I carefully picked her up (I should add that I have an affinity for cranky/grouchy animals, of any species). I quickly carried her back to my truck while repeatedly mumbling to myself "please don't start laying eggs!! Please don't start laying eggs!!". After securing the turtle in the back of my truck I went back to the playground and carefully checked all the holes, which were all free of eggs. Apparently mama was not happy with the first few holes she dug and felt number 3 would be the charm.
I then transported the snapping turtle to a nearby wildlife refuge, where I carefully released her next to the shore of a pond. She made it clear with her hissing and snapping that she really did not approve of me interrupting her morning, but she was in a much safer place to lay her eggs, and without the danger of children. Stepping on them, or digging them up. So, that's my little story for today, and a nice example of how nature always finds a way, preferably the easiest way, unless an Animal Control Officer trying to be helpful interferes.
To learn more about snapping turtles, including some fun facts, visit AZ Animals. If you are interested in additional resources and information for animal control officers, join the Code 3 ACO Coalition.