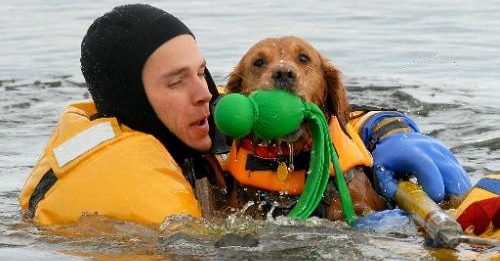 WARM HEARTS & COLD FEET – ICE RESCUE TRAINING
This story is from many years ago, but it features two dogs that are very special to Code 3's founder as well having a strong following of Code 3 students and family members all over the country.
Too often we forget to "Thank" some of our Code 3 staff (family) for their dedication to professional training in adverse conditions. On Jan. 11th and 13th, 2012 Code 3 staff members Nan Stuart, Mike West, and Kelsey and Keester Stuart (4-legged Golden Retriever staff) assisted Mountain View Fire and Rescue with their field practical ice rescue training. Both Kelsey and Keester played the animal victim's for the Fire Dept. teams to rescue.
Please note that both Kelsey and Keester are trained to work in disaster scenarios. Please do not use an animal for any type of emergency response/rescue training that is not specifically trained for that duty. Animals can respond unpredictably, and special precautions are taken during and after the training to safeguard the well-being of the animals used.
Photgraph courtesy of Lewis Geyer and Timescall.com; video courtesy of Timescall.com featuring Nan Stuart.